WorldNomads
WordNomads è il portale leader per le assicurazioni di migliaia di viaggiatori in tutto il mondo: le polizze sono semplici e flessibili e si adattano alle esigenze e agli stili di viaggio più diversi. L'assicurazione si stipula online, prima della partenza o durante il viaggio, con la possibilità di assicurarsi anche per sport estremi ed escursioni avventurose.
Assicurazione di Viaggio: Semplice e Fressibile
L'assicurazione di viaggio WordNomads.com è molto flessibile e adattabile ai tuoi cambi di programma. Puoi sempre integrarla, estendere il periodo assicurativo, o estinguere la polizza in qualsiasi momento il tutto comodamente online. Puoi anche stipulare la tua polizza quando sarai già in viaggio.
E'disponibile per le persone provenienti da oltre 140 paesi ed è un'assicurazione progettata per viaggiatori avventurosi che amano andare fuori dai circuiti turistici tradizionali
Prevede una copertura per le spese mediche, di evacuazione, per lo smarrimento e danneggiamento bagagli, oltre che per una vasta gamma di attività sportive e avventurose anche estreme
7 things you should know about Travel Insurance from World Nomads
Trusted reliable underwriters
WorldNomads.com is backed by a suite of top tier, global travel insurers who provide you with great cover, 24 hour emergency assistance and the highest levels of support and claims management when you need it most.
Value for money with the cover you need
By focussing on what you need and leaving out what you don't, the travel insurances available from WorldNomads.com offer some of the most competitive prices online for travellers from over 140 countries.
Flexibility when you need it most
Travelling without insurance or had a change of plans? You can even buy a policy from WorldNomads.com if you're already travelling and you can extend and claim online while you're still away.
Cover for a range of adventure activities
From skiing & snowboarding in New Zealand to whitewater rafting in Colorado, the travel insurance plans from WorldNomads.com cover a range of adventure activities, giving you peace of mind to get the most from your travels.
World Nomads keeps you travelling safely
Access to up-to-date travel safety alerts, safety advice and tips online through the World Nomads Travel Safety Hub.
More than just great value travel insurance
Learn the local lingo through a series of free iPod & iPhone Language Guides and can stay in touch with family and friends with a free online travel journal.
Commitment to exceptional customer service
Each plan is different, depending on your country of residence. Find out more about what's covered or ask WorldNomads.com if you have any questions.
Make a difference in the places you travel
When you travel to far out places you often receive generous and gracious hospitality from local people, even when they don't have much themselves.
Footprints aggregates many small contributions from people all over the world fund specific community projects, helping people who struggle with basic needs for food, water, housing, health and safety. Find out more about the Footprints network and how you can help.
Travel insurance from Worldnomads.com
Le caratteristiche principali dell'assicurazione con WorldNomads.com sono molteplici e si adattano bene alle esigenze dei viaggiatori più diversi: il servizio si appoggia ad agenzie assicurative accreditate e sicure, con un altissimo livello di assistenza al cliente.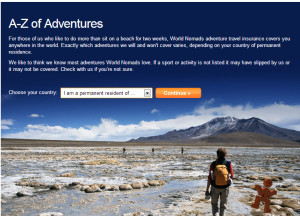 Puoi calcolare subito il tuo preventivo, selezionando nel box di ricerca data di partenza e di rientro, destinazione e decidendo di richiedere per un'assicurazione personale, di coppia o familiare.
In più l'assicurazione con WordNomads è molto flessibile, adattandosi ai cambi di programma del tuo viaggio, puoi estendere il periodo assicurativo o stipulare una polizza quando sei già in viaggio.
Puoi assicurarti anche per avventure e sport estremi dei più diversi, sia che tu lo abbia già programmato o meno, e puoi rimanere sempre aggiornato sulla sicurezza del Paese dove ti trovi grazie al Travel Safety Hub, una community dove puoi trovare consigli, esperienze e suggerimenti.
Il portale mette a disposizione anche utili guide per imparare la lingua di diversi Paesi, trovare medici, avere consigli riguardo l'evacuazione, i bagagli e supporto 24 ore di emergenza, quando più ne avete bisogno.
Quando acquisti una polizza di assicurazione di viaggio su WorldNomads puoi fare una donazione per progetti umanitari in tutto il mondo: http://footprints.worldnomads.com/.
Il portale mette a disposizione ASK a Nomad, il servizio di Q&A sul viaggio, basato su un network di oltre 50.000 viaggiatori in oltre 129 Paesi che scambiano esperienze e consigli.
Puoi iscriverti al servizio a questo link: https://www.worldnomads.com/login.aspx.